Marketing Masterclass
Boost Your Pharmacy's Year-End Revenue through Digital Marketing & SEO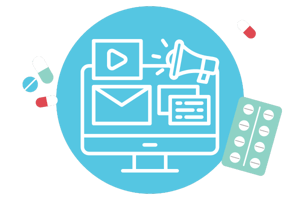 Looking for ways to spread the word about the products & services that differentiate your pharmacy from the competition?

Join us for a dynamic session focused on helping you increase your revenue potential in Q3 and Q4 by increasing your pharmacy's visibility online. You will walk away with proven marketing strategies that will keep your existing patients engaged and attract new patients by leveraging your pharmacy website and social media platforms to their fullest potential.

In this session, we share:
Tips for creating organic social media content that engages your existing patients online,
Strategies for paid advertising that targets potential patients seeking your pharmacy services,
Search engine optimization best practices to enhance online visibility and increase awareness of your pharmacy's unique offerings,
Ideas for planning year-end marketing campaigns including flu season, back to school, holidays, and more!