Appointment-Based Model & Workflow: Optimize & Transform Your Pharmacy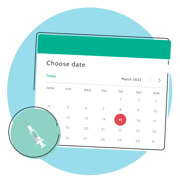 Patient communication is an integral part of a successful pharmacy-customer relationship.
The Appointment-Based Model (ABM) is a patient-centric system built on personalized services and workflow efficiency to provide quality patient care.
ABM is becoming a popular means of offering one-on-one pharmacy services. This flexible care model works well with a variety of offerings, benefiting patients and pharmacies alike.
In this webinar, we are joined by PDS to discuss how to leverage the Appointment-Based Model for encounters like COVID and flu shots, Medicare comparisons, and more. We also share best practices and create workflows that will help you optimize your operations.
Watch the On-Demand Webinar